GROUP WORK : videos B2
Homework for Feb 27th : you have the choice of 2 videos
Video 1:
https://www.facinghistory.org/resource-library/video/overview-refugee-crisis
Video 2:
THE WORLD OF WORK
How to write a CV in English (with examples) and a cover letter (with samples).  Don't forget that you need a 'personal statement' at the beginning of your CV.
Browse through the websites below, there is advice and there are many examples to look at.
https://www.reed.co.uk/career-advice/how-to-write-a-personal-statement/
https://www.prospects.ac.uk/careers-advice/cvs-and-cover-letters/how-to-write-a-cv
https://www.prospects.ac.uk/careers-advice/cvs-and-cover-letters/example-cvs
https://www.reed.co.uk/career-advice/how-to-write-a-cv/
A job interview:
ALEPPO'S CHILDREN
Download document (3 first pages only):MNL-Aleppo-underground-orphanage-Int
http://www.aljazeera.com/news/2016/12/east-aleppo-evacuations-161219040452388.html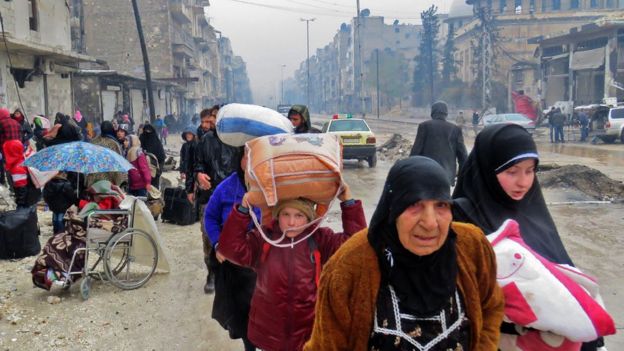 Aleppo suffered catastrophic damage during the four-year siege and battle. According to an Amnesty International report, government forces have been responsible for the majority of violations in the conflict in Syria. Ravina Shamdasani, a spokesperson for the Office of the UN High Commissioner for Human Rights, issued a statement in November 2016 which said that « strikes against hospitals, schools, marketplaces, water facilities and bakeries are now commonplace, and may amount to war crimes« . During that phase of the offensive, about 250,000 civilians were left in the city. In November 2016, UNICEF estimated that nearly 100,000 children were living under siege in Aleppo.

About 10% of Syrian refugees have sought safety in Europe, sowing political divisions as countries argue over sharing the burden. A further 6.3 million people are internally displaced inside Syria.
The UN estimates it will need $3.4bn (£2.7bn) to help the 13.5 million people who will require some form of humanitarian assistance inside Syria in 2017.
Almost 85% of Syrians live in poverty, with more than two-thirds of the population in either extreme or abject poverty. More than 12.8 million people in Syria require health assistance and more than seven million are food insecure amid rising prices and food shortages. Households spend up to a quarter of their income just on water. Some 1.75 million children are out of school.
FAKE NEWS
Homework for Monday March 13th:
1.Find 2 websites that you think were created to display fake news. Post the links on the website and explain why you think it is fake news. Comments at the bottom of the page !

2. Worksheet on Fake news here : Fake news lesson plan
3. Listen to the MP3 below. Then, summarize it in French.
BLOW OUT
analysing-shots-in-blow-out-ppt
ARCHITECTURE(2)
Norman Foster – document to download and read thoroughly:
Special US Elections 2016
Watch these ads :
Chapter one : Architecture
I. Chicago, « the windy city »: where the first skyscraper was born
One of the iconic buildings of Chicago is the John Hancock tower:
If you want to know more about the new addition made to the tower, watch the following video. Impressive ! Would you try it or are you too afraid of heights ?
II. Making a PPT presentation of a famous architect (download rules down below)
powerpoint-on-a-famous-architect
III. Video « spirit of architecture » is too heavy to download… You'll have to watch it in class again !